The demand for online collaboration plus the amazing web interfaces that can be created with new technologies (e.g. HTML5 canvas) has created a new and quickly growing market for modeling tools: online modeling tools.
In fact, many of them are more drawing tools than modeling tools but, at the very least, they offer you a way to draw and share your models online, mainly covering UML models, database models (with ER diagrams) and BPMN process models.
There are many tools you could use (with new players entering the market every few months) with a wide variety of different features and target markets. So if you're interested in an online UML diagramming app, I'm sure you'll find a tool that perfectly suits your needs. To help you in your search, I'm recommending the tools that, as of today, I think are among the best candidates.
Tools are in alphabetical order. The list does not include (javascript) libraries for drawing models nor textual UML tools  (that could be regarded as some kind of online UML tools since typically they offer the option to describe a UML model with a textual notation and then render it automatically in way that it's easy to embed in a website as an image)
Online diagramming and collaboration. Several modeling languages supported (including UML). For a short introduction see the presentation of this tool for the portal readers in a guest post by Creately authors , see here

Pure HTML5 Online Flowchart Software, licensed under GPL (nice!), which obviously means that you can also have the option to install it on your own server. The only "but" for the typical readers of this portal is that as a flowchart-focused software, it only covers one kind of UML diagrams: state machines (but there is an easy solution for this just fork it on Github and extend it yourself 🙂 ). Diagrams can be easily shared with others but synchronous collaboration is not possible.
Fails in the collaborative aspect and it's less feature-rich than the others but I love its simplicity. All you see is a empty canvas ready for you to start drawing. Support for BPMN notation.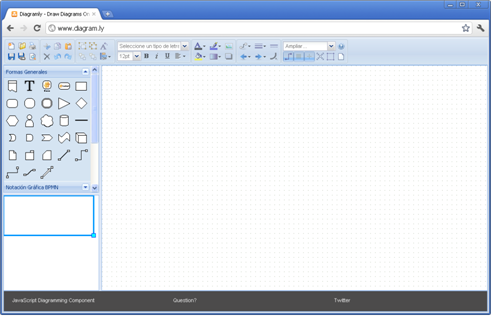 Modeling tool (right now only supporting class diagrams) with some code-generation capabilities. Featured in the blog here.

Support for UML and BPMN diagrams (among many other types). They claim to be "the most widely used online diagramming application", I wonder how they know that. Collaboration and revision control features available.

Flow charting tool with support for all major UML diagrams (and also BPMN). The tool has a demo mode you can use to try it for free. Works also when you are offline and there is a desktop version available so you can choose.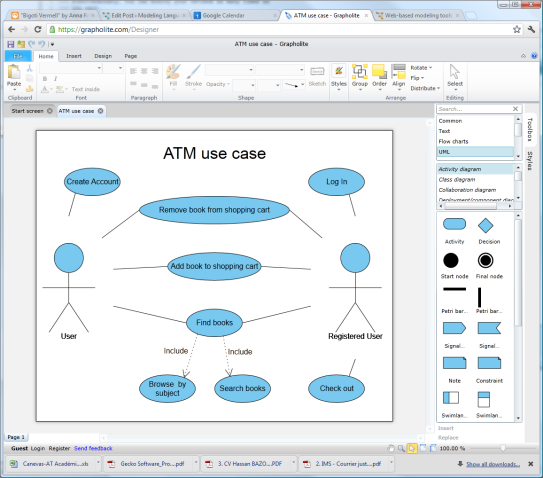 jsUML2 library
A HTML5/javascript library for UML2 diagramming. Its main objective is to provide web developers an easy way to visualize and edit UML models in their our own web sites, without other external dependencies and fully executable on the client-side via the browser, unlike other tools in this list. The jsUML2 library provides an API to allow web developers to include editable diagrams in their own web sites making use of the HTML5 technologies supported by the newest web browsers, as well as by current mobile devices.

HTML5-based. With UML support and real-time collaboration capabilities. It can import Visio files, which is definitely a plus considering that all these tools seem an online version of Visio and are probably targeting the same kind of users.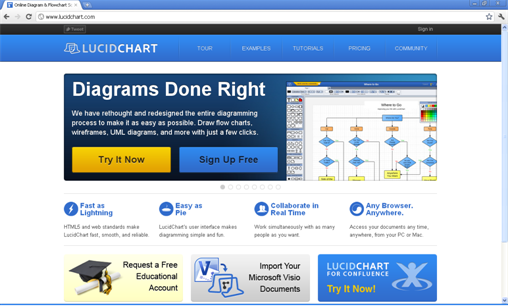 JavaScript diagramming solution. Supports BPMN models, database schema designs, UML diagrams and organizational charts. They claim to be the only fully client-side solution.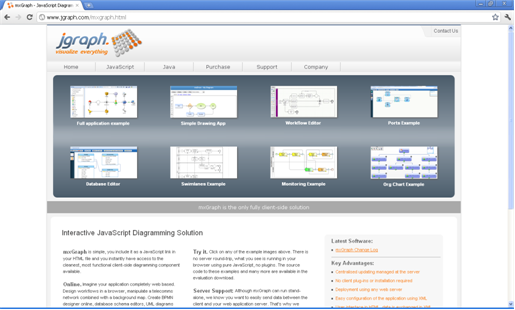 Of course, these are not the only alternatives (feel free to suggest other tools in the comments!). If you're just interested in drawing UML diagrams, UMLCanvas or zOOml could work for you as well. If you prefer to create your own web-based modeling tool, then Joint (Javascript diagramming library) could be the place to start. And if you just want to render your UML diagrams as part of a web page, several of the tools in this list of textual modeling tools could be used for that purpose. If you haven't yet found what you're looking for, check this extended list where you'll find all kinds of online drawing tools (i.e. not necessarily modeling tools).
Author's note: This post was initially published in 2012 and has been significantly rewritten several times ever since to include/remove relevant tools