Dr.Explain: One interface for creating technical documentation
(guest post by Dennis Crane about his Dr. Explain tool, who has been a long time sponsor of this portal, so thanks again Dennis!).
Introduction
Have you ever tried to create a software manual or a help file? If your answer is yes, then you know that to create user documentation quickly and easily, you need a good authoring tool! Among other things, it should let you save files in different formats, handle screenshots, and format the text. Certainly, you can use some text processor together with some graphics editor to perform such tasks. However, it may take a lot of time to learn each of these applications, and sometimes it might be difficult to find necessary functions among many others that are rarely used.
Nowadays, there are quite a few applications specially designed for technical writers and software developers. One of these apps is Dr.Explain ( www.drexplain.com ), which is very easy to master. It provides all the necessary features, and is not overloaded with redundant ones.
Application main window
Dr.Explain's main features and advantages
Here are the most important features and advantages of Dr.Explain:
 Dr.Explain is an advanced tool for creating user documentation for online applications or stand-alone software products. You can use Dr.Explain to document your applications regardless of the programming language or development environment you use.
Dr.Explain and image capturing. You can use Dr.Explain to take a screenshot of a web page or a software application, and then insert the image into your document. Dr.Explain will automatically recognize window elements, such as controls, edit fields, options or buttons. This way you can easily create illustrations with editable annotations, markings, and footnotes.
Automatically generated screenshot with annotations
Easy text structuring means that Dr.Explain is handy for splitting text into sections, as well as for adding keywords, indexes, and element searches. Moreover, Dr.Explain's search module can be automatically built into an online manual (you don't have to use any third-party scripts). To generate context-sensitive help, you can link your help file with your application's structural parts.
Project structure tree
 Support for different file formats. After you create a help file or other document, Dr.Explain can convert it into any of the following formats: help file (Microsoft CHM), online manual (HTML), or ready-to-print documents (RTF and PDF).
Supported export formats
Dr.Explain's user interface
Dr.Explain's window consists of a menu, a toolbar with main functional buttons, and a project window. The project window consists of three parts:
 The hierarchical structure of the project. All sections are represented in the tree structure. You can access the section management functions via the pop-up menu (by right-clicking an item).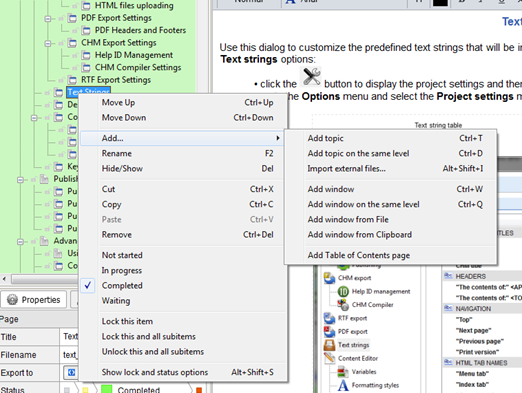 Project element pop-up menu
The page properties panel. In this panel, you can edit a section name or status, assign a Help ID or alias, or select formats to export this section.
Page properties panel
The page content editor, with text and annotations management functions.
Content editor
The toolbar and the menu, which provide access to the main functions. For example, you can add a new section, export a project into different formats, or manage the project settings.
Application menu and toolbar
Dr.Explain is very easy to learn even for users with little experience in creating technical documentation. In many cases, you can use Dr.Explain without ever opening its help system.
Dr.Explain's functional capabilities
The Capture and Analyze feature lets you quickly create illustrations. You can capture a whole window or a part of the window, and Dr.Explain will analyze the image for you. To analyze screenshots of Java-based applications, you need to install the respective plugin included into the Dr.Explain installer (in most cases, no additional configuration is necessary).
The image annotations editor generates explanatory notes for screenshots and illustrations. Dr.Explain will automatically recognize the controls in the captured window, generate a list of controls, and create explanatory notes. Then you can manage or edit the notes (change their style, text, or location).
Screenshot annotation designer
To start editing an annotated image, double-click the screenshot. Then you can find Designer mode where you can create new notes and annotations, and edit the existing ones.
You can edit the style of the notes in the annotation designer properties window. You can select any properties to apply them to other projects.
Screenshot annotation templates
The special text editor helps you create help files and user documentation for software products. This editor is very similar to content management systems (CMS).
Text editor toolbar
Extended spellchecking is also available.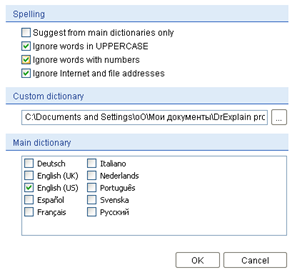 Spellcheck settings
Monitoring the status of project components. This feature allows you to monitor the completeness of different project elements.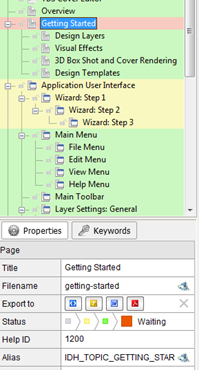 Topic statuses and output settings
Dr.Explain advanced features
Here are some of Dr.Explain's advanced features.
Using the command prompt for batch processing of multiple projects or for process automation. This feature lets you save projects as HTML, CHM, PDF, or RTF files. If you have already installed Dr.Explain, you can find its command prompt tool here: "C:\Program Files\Dr.Explain\tools\deexport.exe" (the drive letter and the programs folder may be different).
Compressing tool allows you to compress project data. You can choose which types of inactive elements must be automatically deleted: pages, topics, or control elements. This feature is very useful for large projects as it can save disk space.
Validation tool. All project files will be scanned to find duplicated or invalid page names, incorrect links, unlinked keywords, etc.
Help ID support. If you assign numeric values and text aliases to file topics, you can later create context-sensitive help. You can also create map files within the project.
Quick screenshot update helps you replace the existing images when you release a new product version. If you update the screenshots, all meta-data (notes, annotations, etc.) will be kept intact.
Conclusions
Dr.Explain provides all necessary tools for creating and structuring any type of technical documentation. In comparison with the competitive products, Dr.Explain supports almost the same functions. However, its unique features and simple user interface make it an excellent development environment for creating help files of any complexity.
Dr.Explain is always kept up-to-date, and any bugs are fixed in due time. If you have any questions about this application, you are welcome to use its user manual, Web forum, demo videos, and online support system. If you want to try Dr.Explain before buying it, you can download it for free at http://www.drexplain.com/