Today we have a guest post by Yves Yang introducing his tool BPMN Composer ("The Modeler that is 100% BPMN 2.0").
Enter Yves:
BPMN is a standard initiated in the early 2000s by a group called Business Process Management Initiative (BPMI), which has now merged into the OMG. The initial objective was to deal with the notation, that is to say in a joint representation to formalize business processes, understood by all (business and IT) and independent of tools – objects that can be drawn on a whiteboard. As such, it went through the specifications 1.0, 1.1 and 1.2. At the end of 2010, version 2.0 is adopted by the OMG, with the active support of the Workflow Management Coalition, an association of software companies specializing in workflow and BPM. It brings two major innovations: the notation is complete and detailed enough to be potentially automated as is, and the underlying logic (the meta-model) can be now saved to a file in a standardized format.
One need only note the large number of publications released on the topic, as well as the profusion of dedicated corporate training programs, to reach the conclusion that BPMN 2.0 has become an undisputable standard.
Modeling tools have to adapt to the fact that not all the releases that have emerged so far (1.0, 1.1, 1.2) are compatible with each other, which is the reason why W4 (www.w4global.com) and Soyatec (www.soyatec.com) decided to join their respective skills to design a new tool based on the standard itself: BPMNComposer.
Over the years W4 has gained a valuable experience in assisting hundreds of businesses with business process modeling and execution. Building on this, we are now introducing BPMNComposer, a brand-new modeling tool based on the BPMN 2.0 standard that has been co-developed with Soyatec, who has a great expertise in BPMN and modeling tools as well as Eclipse-based tools.
Who is it for?
As process modeling involves conducting an in-depth analysis of an organization, we are convinced that such tools make work much easier for the consultants, whose mission is to have a comprehensive understanding of each stakeholder's expertise, to identify how each of them contributes, and thus formalize and document business processes as they are today and as they will be in the future.
BPMNComposer is thus designed for business consultants, for functional managers for a particular area (CRM, Purchasing, HR, IS, etc.), and also for core business managers.
Anyone who wishes to model a process can of course use BPMNComposer as it is not reserved for IT experts. As they use the product, users will take advantage of the documentation feature as a basis for communication with their colleagues, especially when submitting their work.
BPMNComposer relies internally on BPMN2 meta-model, supporting the native extensibility of the standard, enabling ISV who would take over the tools to implement their own solutions.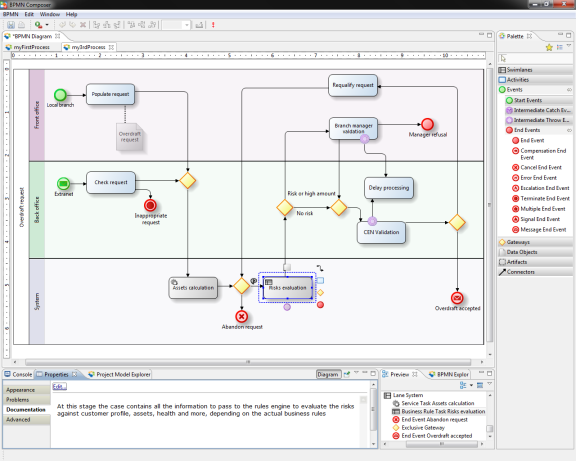 Key functionality:
Create process diagrams based on the BPMN 2.0 standard
Save the diagram in BPMN 2.0 format
Print the diagram
Add annotations and documentation to the diagram
Generate dynamic HTML documentation
A particular focus has been put on the ease and smoothness of use.
We are proud to introduce BPMNComposer and would like you to take the opportunity to try it now: www.BPMNcomposer.org. The product can be downloaded there, and the forum is the ideal place to discuss with the growing community of users.