Lucidchart: UML modeling using HTML5
Guest post by Eliza Wright from Lucidchart, a new player in the software modeling world. Enter Eliza talking about UML modeling using HTML5 with Lucidchart.
Lucidchart is a great tool for sketching out requirements for UML specifications on a development project.  If you need to create an initial requirements sketch and quickly send it on its way, Lucidchart might be the perfect solution for you.  Our real-time collaboration means that changes are synced and saved instantly, so you can revisit your diagrams at any time and from any place to flesh them out.  Plus, we offer a robust revision history for complete peace of mind.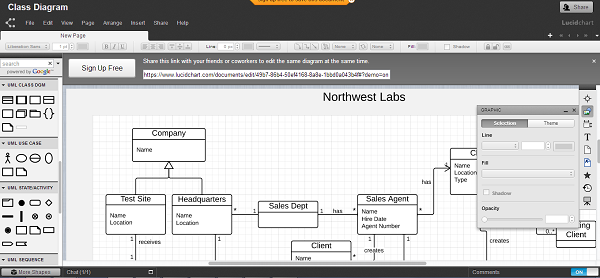 If you're new to UML diagramming software, check out our UML resource page for definitions and tips.  Experts and beginners alike will appreciate Lucidchart's extensive UML and ER shape libraries, as well as the hundreds of available templates in the Community section.  For niche use cases, we offer the unique ability to import Visio stencils from across the web.  Couple that with our native Visio support (the ability to import .vsd files and export back to Visio in .vdx format), and you'll be able to share diagrams with just about anyone.
Engineers often need a variety of diagramming tools to handle process flow, database planning, and other tasks.  So you'll be relieved to know that Lucidchart is designed for complex creations like ER diagrams, BPMN 2.0 diagrams, and network diagrams including the latest AWS 2.0 shapes.
Because Lucidchart is built on open web standards, it works on any browser, from any location, with any device. We are integrated with major players like Google Drive, Google Apps, Confluence, JIRA, and many others, so sharing is a snap.  We can offer these features because Lucidchart is a SaaS product and hosted on the cloud.  Cloud computing requires zero downloads, plugins, or add-ons–just you and an internet connection.
If you're interested in using Lucidchart for yourself or your team, try the demo.  We are offering a 14-day free trial with no credit card information required.
If you liked this post, you should subscribe to the blog feed or facebook page and follow my thoughts on twitter about software development or web design and social media . Check also my book on model-driven engineering .
Be sociable, share!